India.
Just thinking about India, puts all my senses into overdrive!  The smells (usually not so pleasant), the chaotic sights, the spicy flavors, all of what makes this country so unique. I have been to India twice on mission trips, and although each trip was with a different group and for a different purpose, both times I found myself in the Northern area at the base or partly up the mountains in March.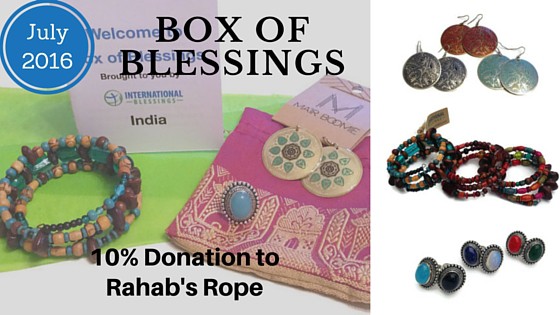 In 2006, I traveled for 2 weeks with the Methodist Conference to help build a greenhouse, pull a lot of weeds, and visit an International School in Mussoorie, India. In 2009, my World Race team taught English to children of the lowest caste system in India, 'the untouchables' (such a horrible name and system, especially when these kids were adorable!)  Typically, these children would not be offered education of any kind, but longterm missionaries had set-up a school in Dehra Dun to hopefully help these kids move up in society and out of poverty.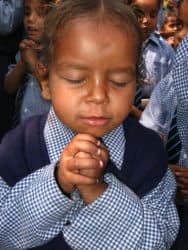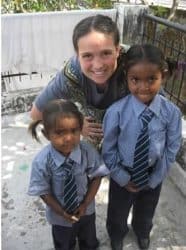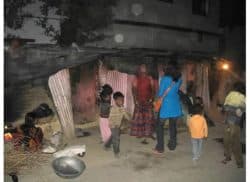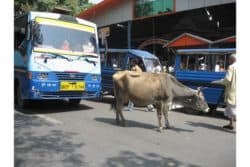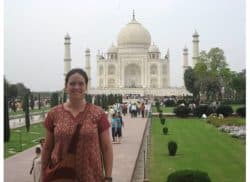 A few highlights from India – cows everywhere (in the middle of crazy traffic), wild rickshaw rides, slum ministry, visiting the Taj Mahal (twice!), train rides, and getting my nose pierced. . . . (just using a sharpened wire, not recommended, it hurt…)
Okay, enough about my memories and on to July's Box of Blessings!
The earrings this month were brass and enamel with etched, painted designs. Ornate jewelry is a very cultural art form in India. Made in Old Delhi, the artisans delicately bend, etch, bead, and polish jewelry from stones, glass, up-cycled metals & wire, seeds, and other materials.
The bracelet comes in 3 color designs – blue, red, or multicolor. Each one has a mixture of wooden and glass beads strung in a spiral to make this creative wrap bracelet.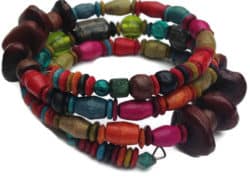 The ring contains a natural stone with a smooth finish. The silver braided edging around the stone helps give this ring a finishing touch.  This is by far a favorite at craft shows and events, I have trouble keeping them in stock!  Plus they come in an array of colors, so one is probably not enough!
All of the products in July's Box of Blessings were made by artisan groups that partner with Matr Boomie. This wholesale fair trade company marries modern design sensibility with traditional art forms to bring people and cultures closer together. Matr Boomie began in 2006 as Handmade Expressions, to create opportunities for women and minorities to realize their creative, economic, and leadership potential. They now empower 20,000 artisans in 40 partner communities throughout India.
Most of the jewelry that Matr Boomie offers is made in the sprawling cities, which present economic and social struggles for minorities, lower castes, women, and the poor. Many children run away from home, hoping for better opportunities in the city, only to continue the reality of poverty. Matr Boomie believes that the cycle of poverty can be broken through fair trade, economic empowerment, and education. They work with several projects that are focused on urban entrepreneurship, such as an empowerment group for women of the slums of Jaipur.
July's cause of the month featured Rahab's Rope.
Their mission is to give hope and opportunity to women and girls that are at risk or have been forced into the commercial sex trade of India. They provide a safe and loving environment that will enable these women to grow and develop both physically and spiritually. Rahab's Rope wants to see lives transformed by God's love in action. Each women is first provided for emotionally, physically, and spiritually, then provided with basic education and training in vocational skills so that she can eventually re-enter her community in a positive and contributing way.
Rahab's Rope currently works in several areas of India.
Bangalore – Since 2004, they have provided aftercare for hundreds of women through basic education and vocational training.
Goa – Began in 2010 with a focus on prevention. They work with young girls that are not in school as well as young women who have no education or marketable skills.
Mumbai – In 2011, they were invited to visit a brothel where many women live and work in a field. Now, they provide basic education and share the love of Christ 5 days a week.
New Delhi – Since 2014, they support a similar organization that has an aftercare facility that houses women leaving the sex industry and offers vocational training.
YOUR SUPPORT MATTERS.
When we partner together, big things can happen. That is my dream for International Blessings. Together, we can and WILL change the world.
To sign up for your Box of Blessings, click HERE!