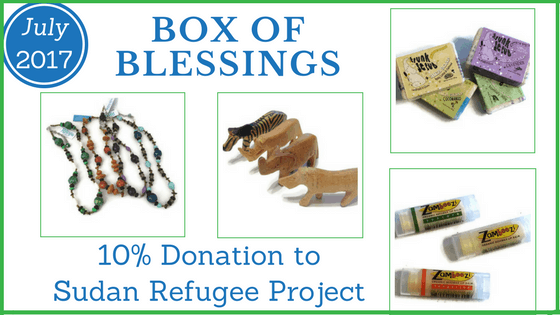 There is something magical about Africa. There really is. Once you have been there, it captures your heart in a way that is hard to describe. I have visited only a few countries in Africa, but something about it pulls at me to return and to experience more of this beautiful continent. As you know, this place has been in the middle of much turmoil for many ages, causing poverty and hardship for many millions who call Africa home. Diseases are rampant and death is an everyday thing. People know what it is to live a difficult life.
But if you look, there is a beautiful tenacity that emerges out of the despair that is so common there. And when you see it, you find beautiful stories of hope and inspiring stories of perseverance.  These are the things that I found imbedded into the July Box of Blessings from Africa!
The first things that caught my eye, and the things my kids grabbed immediately, were the sweet African animals, hand carved out of muhugu wood in Machakos, Kenya by artisans who use only rudimentary hand tools. Carving is a tradition in Kenya, and the skill is passed down from generation to generation. I sat in amazement and watched artisans carving out of wood one day in Tanzania. It is not quick work. Each cut has to be thought out and planned. It is beautiful what can be created from a simple block of wood.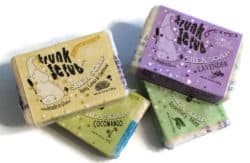 It was fun to see some body care items in this month's box! The Trunk Scrub has a beautiful success story behind it. The owner of the company that produces the shea butter for the soap is a woman named Comfort.  Her father died when she was 8 and since then, she has worked to pay for her own education, even becoming a street vendor to pay for her high school fees. Later, she moved to Nigeria and started a business selling bread and partnered with a friend to purchase an oven and hire employees. When she moved back to Ghana, she began a business producing pure, unrefined shea butter and even offers her employees health care, good training, a good work environment, and fair wages. The Trunk Scrub smells absolutely amazing and is made of only natural and pure ingredients.
The Zambeezi Lip Balm also smells and feels incredible! The mission of the Zambeezi company is to not only make the best lip balm in the world, but to make a huge difference in their community in Zambia. All of the workers who are involved in growing ingredients and making their lip balms receive a fair and living wage for their labors, while many other African farmers are taken advantage of and given next to nothing. And Zambeezi partners with local churches to drill wells and build schools and clinics for the Bantu people living there, all while protecting the forests from timber cutting and copper mining because they are giving people an alternative income. What a great company to purchase from!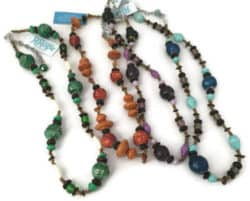 The final item I found in my box was the absolutely gorgeous mixed media necklace made in Uganda. It was wonderful to have a card in the box highlighting the story and a picture of Layet Christine, the woman who made my necklace. She has 7 of her own children, but also takes care of orphans and uses the beadwork to help provide for her family. The necklace itself is created from different types of beads made of clay, glass, wood, bone, and/or paper. The artisans at Project Have Hope, the group that facilitates the sales of the jewelry, have stories of perseverance and a lot of hard work. They are learning to be entrepreneurs and to take control of their futures.
The Cause of the Month:
Money has been donated from the purchase of your box to go toward helping desperate Sudanese refugees in Uganda. Many thousands of refugees have escaped the horrifying and brutal life of war in Sudan. Adventure in Missions and G42 Academy in Spain are partnering with a missionary, Uche Izuora, working on a project involving micro-enterprise, businesses, working farms, community, schools, and orphan care to give these refugees a new hope and a new future. What a blessing to be a part of something so life-changing!