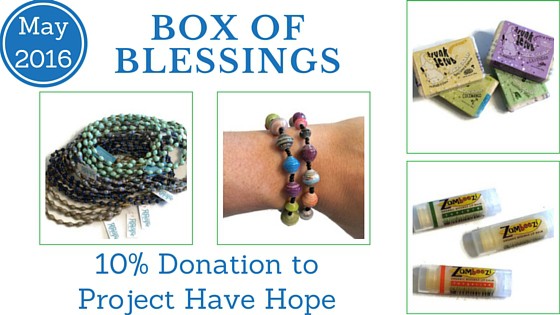 I LOVE Africa. . .
That place, doesn't really matter what region, Africa, in general, has a piece of my heart. It's like my second home. I had (maybe still do?) fully intended to be living in Africa, probably in a hut, serving the people of my community in whatever way God provided.
But I'm not in Africa . . . And to be honest, I really struggle with that. . . A LOT. Just ask my husband.
But I also know that, I am where I'm suppose to be right now. And although I'm not physically in this beloved place, I can still serve those people. God CAN and WILL use me (regardless of where my home is). . . as long as I'm available and willing.
So, May's Box of Blessings is really special to me. Not only because it represented Africa and had super cool products, but because lives are being changed. Poverty is being broken. Families empowered and given hope. Hope for a better life. Hope that their child never goes to sleep with the pangs of hunger. Or grows up without the basic knowledge of how to read and write. Hope.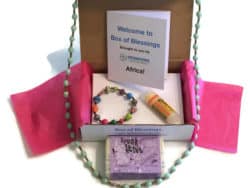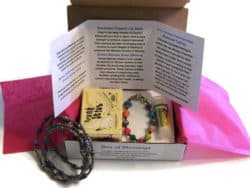 This box represents 3 countries in Africa. And I've only been to one of them, but the other 2 are on my bucket list! I served in Uganda in January of 2009, while on the World Race.  We lived in a concrete school house just a short walk from an IDP (internally displaced persons) camp. We played and sang with kids. We prayed for individuals and the community. We struggled with boiling water (hand carried from a well), with biting flies, and with NO privacy.  We took bucket showers, used a squatty potty, and ate lots of rice and beans. Yet I loved all of it, well except for the biting flies, those were really annoying!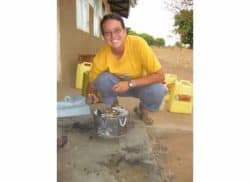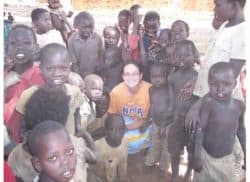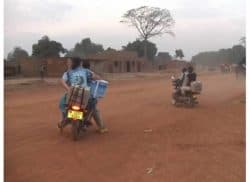 The paper bead necklace and bracelet are made by Project Have Hope, whose work in the Acholi Quarter of Uganda provides education, jobs, and business skills to 100 women. Plus education for their children and 'adopted' children, whose parents died of HIV or AIDS.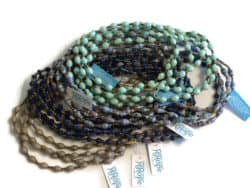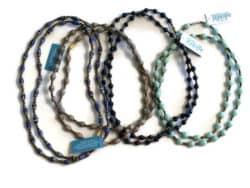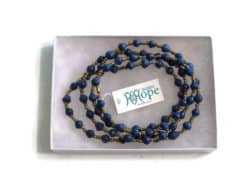 These beautiful beads are made out of scraps of paper that have been cut into long triangular shapes. Then carefully rolled, dipped in a varnish to provide a sheen & durability, and then creatively strung into jewelry.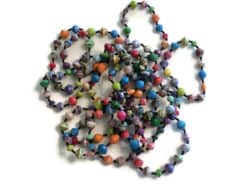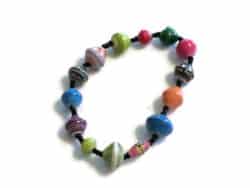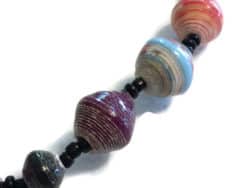 The Trunk Scrub Shea Soap, which I hope filled the air with its yummy aroma when you opened your box!, was handmade by Global Mamas in Ghana, Africa. Global Mamas is a community striving to achieve prosperity for African women and their families. Founded in 2003, this community goes beyond financial well-being to include happiness and good health.  The soap is made from pure unrefined shea butter, coconut oil, sodium hydroxide, and essential oils. All good stuff. No bad stuff. And the plastic packaging is 100% recycled! Flavors include coco-mango, honey/lemon/oatmeal, lavender, and rosemary mint.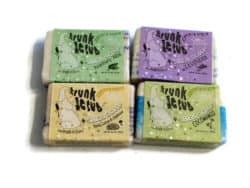 The Organic Beeswax Lip Balm, is handcrafted in Zambia, Africa by Zambeezi.  "You'd have to go deep into the forests of central Africa to find a region wild & pure enough to produce organic beeswax." And that is where you will find this amazing company hard at work. The lip balm is made from pure organic beeswax, mungongo oil (to soothe & protect your skin), and naturally extracted essential oils.  Zambeezi is on a mission to not only create the best lip balm on the planet, but to make a difference. To them, fair trade is more than fair wages, its about empowering and investing in a community to build schools, clinics, drill wells, and more through local churches. And its about protecting the environment. The Mionga forests of Zambia are one of the largest areas of pristine sub-tropical forest left in Africa. By providing alternative sources of income, Zambeezi is helping to save this forest from clear cutting timber and strip mining.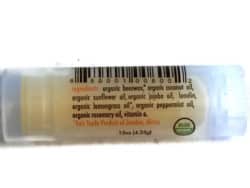 $3 from every box goes to a poverty fighting cause and this month's donation supported Project Have Hope, the same organization that made those beautiful necklaces and bracelets!  PHH is a 501(c)3 non-profit that seeks to empower women in the Acholi Quarter of Uganda.  They provide education to both the women and their children as well as assisting the women in establishing business opportunities to promote economic stability and sustainability. Our donation this month specifically provided vocational training for these women. This training is based on a woman's interests including catering, hairtstyling & salon management, tailoring, knitting, computer & general office skills, and drivers education.
A few success stories include:
Atim Millie Grace completed a 6 month course in catering and restaurant management. She was given a loan of $1,500 to open her own restaurant. Today, that restaurant "Rubanga Makwo", which means "The Living God", is located in a busy marketplace on the outskirts of Kampala, Uganda. She has regular customers, does catering for events such as weddings and community gatherings, and she sells prepared foods to high end hotels.
Aciro Santina completed a 1 year course in tailoring and received a loan to start her own workshop. She now sells her creations in her home village of Sudan.
Okello Sunday is an extended member of the PHH community, and completed the drivers education course. He cares for his younger siblings (parents died of HIV) and his infant daughter. He now drives a truck to collect sand & stones from a quarry, which allowed him to purchase a sand pit as another income opportunity. These jobs have allowed him to move his family from a tiny one room home to a much larger 2 room home so that each family member now has his/her own bed.
THANK YOU for supporting International Blessings and the AMAZING artisans that create the most unique, beautiful products that make up each Box of Blessings.
Remember YOU ARE A BLESSING!