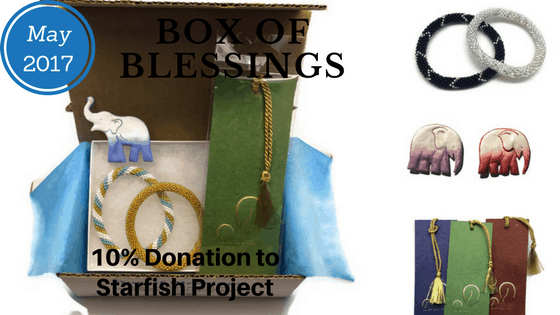 I am new to International Blessings, and as soon as I took a look at the website, I knew I had to be involved! I absolutely love the idea of empowering artisans by supporting their beautiful craft.
It is infinitely more satisfying and sustainable to empower people in the recovery of their own dignity through honorable work than it is to give a handout!
Many times a handout will create dependency and a feeling of helplessness, but a job creates a feeling of worth and confidence. And for a person to be a provider for their kids instead of having to rely on someone else to provide for them? It is truly a beautiful thing! I have seen it firsthand- the difference in a person when they are given the fishing pole instead of the fish, a sewing machine instead of the clothes, an opportunity instead of alms. And you know what is totally awesome? You are the ones providing this opportunity every time you get your Box of Blessings! You are the ones making this happen and making a huge difference in so many lives.
In May, I got my first box, and I couldn't be more excited! My boys were gathered around when I opened the box, and my 14 year old immediately claimed the elephant poo bookmark and stuck it in his current read, Preemptive Love. Because who doesn't want elephant poo as part of their daily life? And the adorable magnet sits on my refrigerator.  The first magnet in my new-to-us home, a beautiful reminder that the world is a big and beautiful place, with people across the globe who are doing something creative and amazing. And that I get to be a part of that amazing.
Mr. Ellie Pooh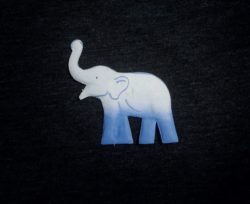 is an organization that has come up with a way to save elephants and provide jobs. In Sri Lanka, elephant are a nuisance, trampling on farmers valuable crops, so they are killed by farmers. But Mr. Ellie Pooh came up with the brilliant solution of combining recycled paper and the abundant elephant waste (up to 500 pounds a day per elephant!) and turning it into a beautifully textured paper product. (Don't worry- it is thoroughly cleaned before processing!) With the profits from the sale of the paper, farmers are reimbursed for damaged crops and don't feel the need to kill the elephants. People are provided good jobs in accordance with fair-trade principles, trees are saved from being chopped down for paper, and elephants are now an asset to these communities. Win-Win-Win. Such a clever solution to an elephant-sized problem!
In the May Box of Blessings, there were also two gorgeous bracelets made by the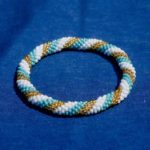 beautiful artisans in Nepal through Sashka Co.Each bracelet is made by hand- skillfully and with great care, using the finest glass and sterling silver beads.  Making these bracelets, hundreds of women in different rural communities in the Kathmandu Valley are given jobs that provide a living wage (more than minimum wage!) to empower them to escape poverty. And the bracelets are so unique and stunning. There are no clasps- each one rolls over your hand and retracts slightly to provide a custom fit for you. I can't wait to show these off!
The Cause of the Month is where a percentage of every box purchased gets donated to a worthy cause! For the month of May, you supported the Starfish Project. This organization provides women in Asia who have escaped trafficking and exploitation with vocational training, health care, shelter, counseling, and education grants, things so vital in keeping them from being exploited again. Thousands of women have been served and over 100 women have been given jobs and careers through the Starfish Project.
You are making a difference in the lives of women and supporting their independence and freedom!