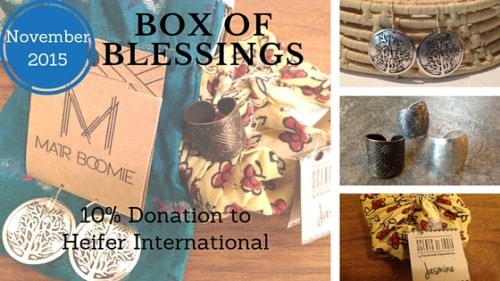 After a week of feeling sick and under the weather with extra stresses at work, I grabbed my brown slip of paper from the mailman, informing me there was a box waiting for me at the post office, and drove to pick up my anticipated Box of Blessings.  I was not disappointed at the colors and smells I encountered as I unwrapped the unique items from India!
My favorite item is the soap, wonderful smell and all natural for your skin.  The soap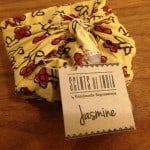 is made by boiling natural ingredients into extracts. After mixing with a oil or soap base they are put into molds and then left to cool. These soap making artists participate in workshops that teach them techniques and principles for their own personal health and hygiene. There were many possible smells that you may have received, such as jasmine, mixed fruit, turmeric sandalwood, or rose sandalwood.
India is known for its ornate jewelry and is showcased well with the metal ring and Tree of Life earrings.  Every time I wear these metal rings, I get compliments and am able to share the story behind my purchase. One jewelry artisan group, located in Old Delhi, a sprawling urban area, had been exploited by tradesmen in the area and was suffering from bad working conditions and unfair wages. A young girl found Matr Boomie (a fair trade group) and asked for help to receive fair trading for their goods. Since their partnership together, the earnings have doubled for the artisans, they have better workspaces, and the children are able to stay in school. The young girl, Sana, was the first one to graduate from college. What a difference business and employment can experience, when they have a good support team around them, seeing the true talents and worth of the products being produced. As one business owner stated, "Now I don't worry, I know you will pay me and I enjoy coming to work."  I think we'd all agree that receiving our paychecks on time and being appreciated for the skills we offer makes our employment much more enjoyable and less stressful.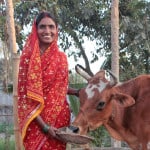 The poverty fighting cause for this month is Heifer International's partnership to empower the women of India. Every box purchased donated $3.00 to help provide livestock, crops, essential training, improved living conditions, and animal well being. Click this link if you would like to donate more towards the cause or read more information http://www.heifer.org/gift-catalog/empowerment/empower-women-india-donation.html
YOU are a participant in the Matr Boomie story as well, helping to provide a demand for these uniquely handcrafted items, from skilled artists working towards a sustainable life for them and their families.  
YOU are making a DIFFERENCE and for this we say
THANK YOU!!!
Leave a comment below letting us know what you love about Box of Blessings and buying items that bring hope to people around the world.